Digital citizenship, Stuffed animals, and a bit of news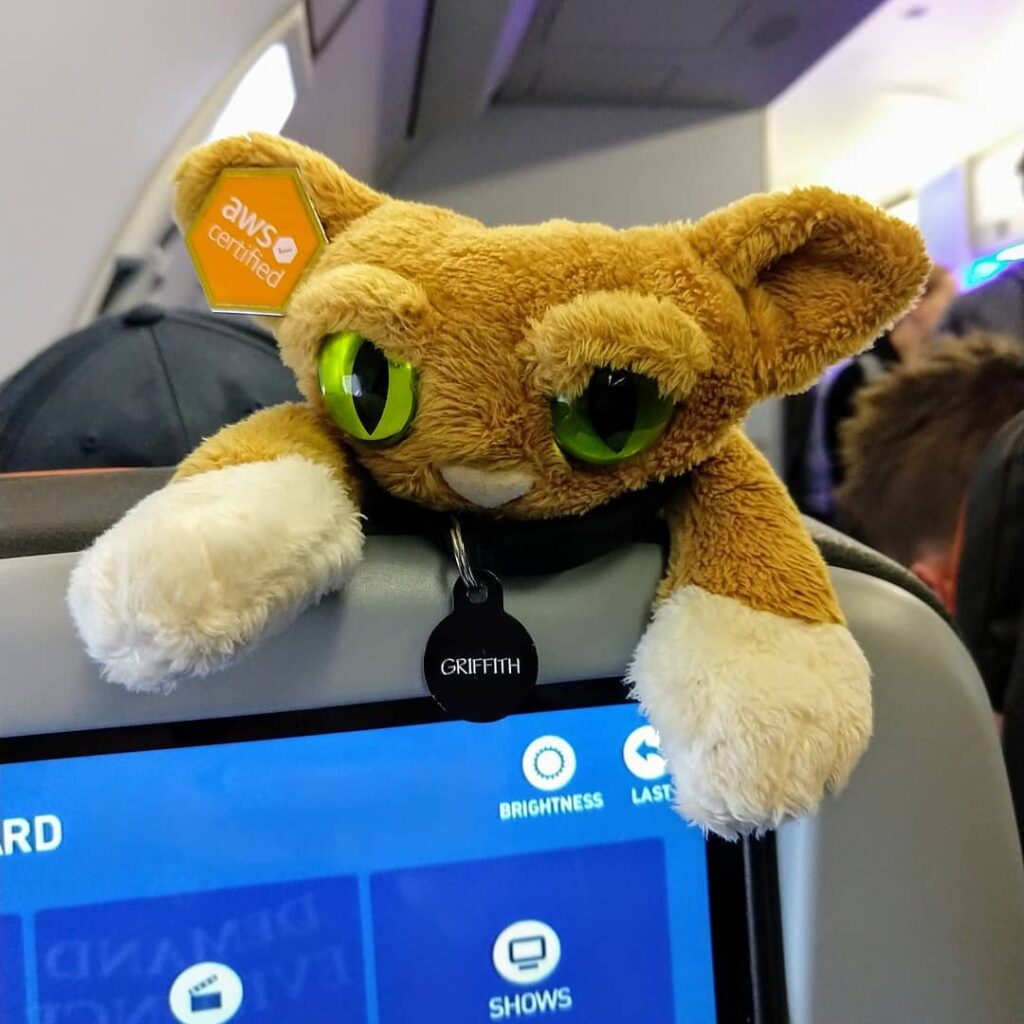 Just back from Seattle on Monday (more on that later), and off for a quick family trip to New York. My brother, who is about to relocate to Montevideo for at least a year, was in town. I have something to pick up at the Estonian consulate as well. And it's the beginning of the holiday season so a good time to see some relatives who I have not seen in a long time.
Griffith the Traveling Mountain Lion declined to do the overnight Seattle trip earlier in the week and is still annoyed at being branded with an AWS logo at re:Invent, but was OK with the extra-space seating on JetBlue.
My first thing to do was to head over to the Estonian consulate the day I arrived. I've been interested in digital government and a variety of digital plays on finances, residence and general "belonging." I don't know that anybody has the answers, but the Estonian "digital residence" program intrigued me enough that I signed up for it a while back. Given recent changes to my work reality (again, more later) this may turn out to be pretty irrelevant, but no sense leaving it sitting there when I can pick it up.
It's a rather simple process. Pick up the card along with the USB reader that you can use to register and otherwise use the card in all manner of things related to government, business and taxes in Estonia. If one were to be in Estonia, you would use this encrypted card to do just about everything. There's no DMV or other government offices as there are most other places. When the Russians left, the Estonians largely reinvented government and they did it on the cheap (as their former PM noted once, it's not all that expensive so long as you don't hire the big IT consultancies to "help."). Today, they're a model of how to do electronic government right. We'll see if I ever have an opportunity to use this.
Later it was off for a family meeting and renunion of the animals. "The animals" being the ones that inspired the original Winnie-The-Pooh stories. Those ancient stuffed toys somehow made their way to New York many years ago to be displayed by the publisher, then languished for many years, and eventually found a permanent home in the children's room of the New York Public Library. Even the Brits eventually conceded that it was as good a place as any.
So, with Griffith and his friends Tigger and Jagular, we headed down for a visit. (The latter two are named for characters from the Pooh series.)
The rest of the trip has been other family stuff. I saw some cousins and friends. I relaxed and thought about things. And I got a phone call.
Looks like I'm moving!
As I said, I was in Seattle Monday. Thursday I got a call back from the people I was talking to at AWS, and quickly wrapped up negotiations for a new job. This one was already in process before I went to the re:Invent conference a few weeks ago, but I had another option in Los Angeles as well so wasn't quite sure. Now I am.
I'll be starting with AWS on January 21st. I'm going home to start quickly packing so the movers can come and get everything in just a few weeks. I'll have to deliver the shock to a couple of clients who have been sure I'm not serious about shutting down my business.
This one's going to be an interesting adventure.